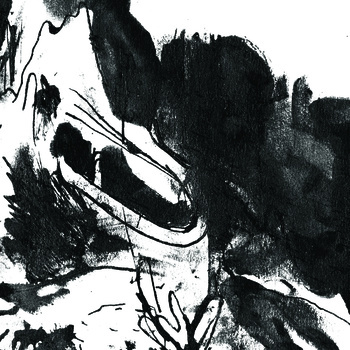 Labels: Static Shock
Review by: Alex Deller
The debut LP from Leeds-dwelling noiseniks Perspex Flesh is a ferociously ugly thing. Hectoring, belligerent and with nary a smooth edge to be found, it caroms through 10 tracks of taut, vicious hardcore as though its life and your death might depend on it. Drawing from the same murky place ""sonically and psychically "" as bands like Society Nurse, White Guilt and Condominium, theirs is a sound mired in an aggressive dissonance that could as easily have its roots in Mecht Mensch and the Tar Babies as that Unwound 7″ Gravity put out. While the clamour barely relents it's perhaps even more unnerving when it does, as with the dragged-out minute or so towards the end of 'White Horse' or the bass-plunk-vs-broken-jawed-hollering which closes out 'Black Magic'. By now you've doubtless got a feel for whether this might be your cup of tea or not, but if not I suggest this: stare long and hard at whatever the fuck the album cover portrays. It's blurred, tangled and bleakly monochromatic, yes? It serves to confuse and unsettle, yes? All of these things apply to the music to be found within. Buyer beware; listener make sure you're feeling strong before you even think about dropping that needle.